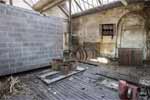 FEG Escape Game: Abandoned Building 5 is another point & click escape game developed by
FirstEscapeGames
. This is an abandoned building, and it's not been used for many years. This building has become a hiding place for mobsters. Today, you've been abducted and kept in this building for ransom. They won't release you until their demands are fulfilled. Now, you are alone in the building, so you must try to escape from there by unlocking the door. Find the key and escape from the abandoned building by solving puzzles. Good luck and have fun!
Play FEG Escape Game: Abandoned Building 5
Advertisement
If you find any broken link, please report it by using our
contact us
link.